Return to Doctors
Geraldine Kempler, MD, FAAP
Board Certified: American Board of Pediatrics
Education: MD – OHSU School of Medicine, Portland, OR
Pediatric Residency: Doernbecher Children's Hospital, Portland, OR
Care Philosophy
I believe in preventative care. Traditionally this means preventing things like diseases, cavities, diabetes and injuries. But as a mother of four I also believe that we can prevent some of the difficulties that parents experience with children. I believe that we can take steps early on that make our day-to-day lives easier. Whether it's getting kids to come to the table to eat the same foods as you, or to permit you to help with toothbrushing, or to participate cheerfully in your home life, we can make things easier with some advance planning.
We can prevent so many of the things that cause stress and disruption in family life. This gives us more time to relax, celebrate, and enjoy!
---
Biography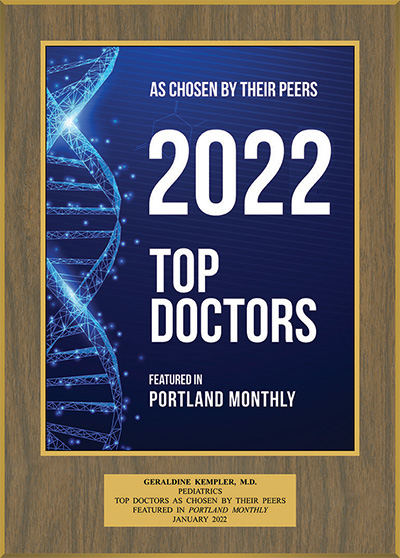 I grew up in Southern California and have been in Oregonian since college. My four kids were born and raised here and we enjoy the mountains, soccer pictures, and beaches.

My Pediatrics training was at Doernbecher Children's Hospital, and I'm a Fellow of the American Academy of Pediatrics. My peers honored me with a Portland Top Doctors award.

Preventing common parenting dilemmas is part of my routine care. Preventing common adult medical problems is my passion. Enjoying our kids with their best health is every parent's dream, and we work hard to make it your reality.

Also, I have a very small dog who thinks he is a bunny.